Share
Like this site? Bookmark & share it:
Decopatch vs. Decoupage
Decoupage is a French word meaning cutting up or cut-out. It came to be used for the technique of decorating objects with cut up pieces of paper glued to the surface.
As with most crafts, it probably doesn't have a single point of origin. Antique decoupaged objects can traced to Siberia, China, Italy, Germany, Poland and of course France to name a few places.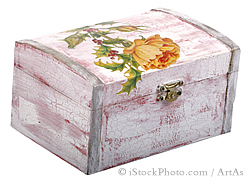 Traditional decoupage requires gluing the paper in place followed by varnishing. In order to achieve a smooth finish, many layers of varnish are required and the object would need to be sanded between coats.
(The term decoupage is also used for the technique often seen on handmade card where stiff cut-outs are layered to give a 3-D effect.)
Decopatch is the modern version of decoupage. (Strictly speaking, Decopatch is the trade name of the French company that makes the special papers, glue etc, but it has rapidly become a generic term.)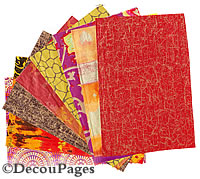 Decopatch papers are thinner, so it doesn't require layers of varnish to give a smooth finish. The combined glue and varnish also makes the whole process much easier. The decopatch glue-varnish and aquapro varnishes are water based so you won't be inhaling solvents as you work.
Your only problem now it to decide whether to say you are a decoupeur or a decopatcher!